Outdoor kitchen designs for every style and space
Creating the perfect outdoor entertaining and dining space for your home.
When you want the ultimate outdoor kitchen or alfresco entertaining area, you need quality materials, proven industry experience and great service. The Pyro Designs difference offers this in every way through our expert outdoor kitchen designers.
We select the materials that will give you the best return on your investment.

You need an outdoor kitchen that will look great on completion – and still look great in years to come.

We create a space that will be easy to maintain.

The easier your outdoor kitchen is to use and clean, the more you will enjoy it!
Browse our Pyro Designs photo gallery, learn about our mission and values or visit our showroom to see our quality appliances and products for yourself.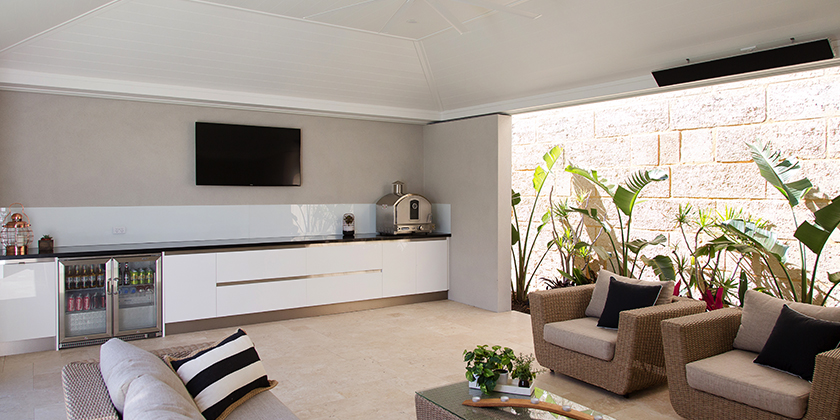 Cabinets
Pyro Designs' alfresco kitchens are built using a construction methodology typical to that of an indoor kitchen, providing optimal opportunity to customise and ensures the space available is used to is maximum potential. The only difference is, materials we use are weather proof, or are protected by the weather by the cabinetry meaning, the alfresco kitchen can be installed either under-cover or out exposed directly to the elements without the risk of damaging the alfresco kitchen. The material used to produce our cabinets carry a seven year manufacturers warranty.
Doors & Panels
We have a number of materials to select from when it comes to external panels to your alfresco kitchen. All carry warranties for us in an outdoor application and a number of different styles and colour selections are available
Benchtops
A number of options are available for bench tops. Natural stones and granites are a popular option. Being a natural product, they are well suited to use in outdoor applications. Other options available include polished concrete, stainless steel or a combination.
Barbeques, Fridges, Rangehoods and other appliances
Most importantly, the appliances used in your alfresco kitchen project must be suitable for your entertaining and cooking requirements and styles. We will also take into consideration the style and location of your alfresco kitchen in making recommendations for your alfresco kitchen appliances. We can supply all types of alfresco kitchen cooking and other appliances and are also happy to incorporate appliances you specify or source yourself.
Splashbacks
Splashbacks are a popular inclusion in alfresco kitchens. They often complete an alfresco kitchen project and raise the standard. Types of splashbacks which may be incorporated into an alfresco kitchen project include painted glass, digital art, granite, stone, stainless steel or tiled.