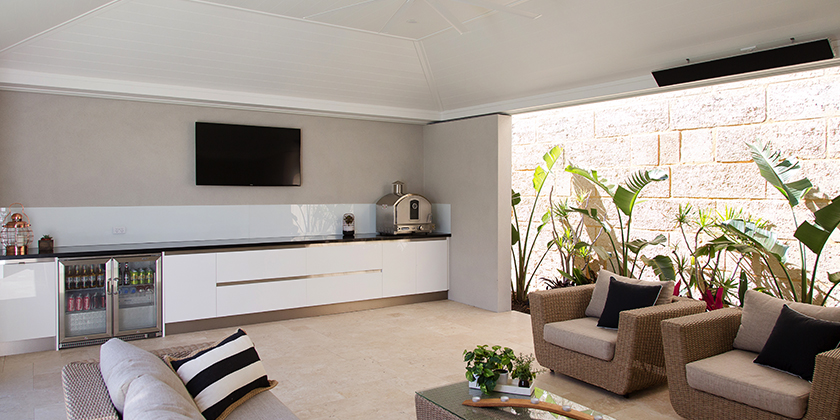 Consultation and Design
Scheduling and manufacturing
Installation
When you're happy with the design and quotation, let us know and we'll prepare paperwork for your final review and acceptance.
On the day of the main installation, your cabinets will be delivered and installed. Typically all appliances are delivered, unpacked and assembled at the main installation. Benchtop templates are also prepared.
We want to understand what you want. Ideally, we will visit your home to review your existing space. We can answer any questions you might have and offer our professional and friendly advice and agree the general concept for your alfresco kitchen. Perhaps you're building or renovating? No problem – we can review drawings and work from there. Alternatively, visit us at our showroom. Usually, we try to complete a consultation within two to four days from contacting us.
When we've received your acceptance of the design proposal and quotation, along with a deposit payment, we'll order your materials and schedule your alfresco kitchen project. Usually we will be in a position to provide an initial installation date at the time of design and quotation acceptance however, we will confirm a schedule of works shortly (usually 2-3 business days) after design and quotation acceptance. Subject to availability of materials and appliances selected and the amount of other alfresco kitchens we're building and installing, we can often complete the initial installation within 21-28 days.
Usually, a day or two after the main installation the bench-top template prepared are checked and removed (along with the sink, where applicable) to commence benchtop manufacturing.
We'll take away the information we receive at the consultation and prepare a design proposal and quotation. Don't be shy – we won't take any offence if you want to make changes to the design, just let us know and we'll amend the design & quotation. Designs may take up to five days from consultation.
Depending on the materials used for the benchtop, the installation of the benchtops typically occurs 5-7 working days after the main installation.
At some point during the consultation and design process, we recommend coming into our showroom to see the different products and materials including BBQ's, fridges, cabinetry panels and colours.
Every job is different. Depending on the inclusions and circumstances of each alfresco kitchen project, a number of other works will be scheduled. Most of the time any additional works are scheduled between the main installation and benchtop installation. We will always do our best to minimise any disruption and the amount of visits to complete the alfresco kitchen installation.
Payment Terms
Deposit – 30% of the contract value is payable and a signed design proposal and quotation acceptance must be received prior to the materials being ordered and scheduling of your alfresco kitchen project. Main Installation – 50% of the contract value if payable on the day of the main installation Final Payment – 20% of the contract value is payable on the day any final works are scheduled. Payment Methods: Electronic Funds Transfer (EFT); Eftpos; Credit Card – Visa and MasterCard. Find out more about the Pyro Designs difference or contact us today.